Hi folks,
Since we launched X-Cart 5, our clients keep asking if we are discontinuing X-Cart 4. We always knew your business relies on X-Cart and we cannot leave you behind. In all our meetings, we promised we are not going to stop supporting X-Cart 4 users.
We're as good as our word and we keep releasing new X-Cart 4 versions, adding new features, fixing bugs.
The next version (v4.7.11) will be out in April, 2019
.
However, according to our records, 100% of our new clients now choose X-Cart 5 for their eCommerce business. 60% of all our customers are now on X-Cart 5.
We decided on closing sales of X-Cart 4 a.k.a Classic editions (Gold, GoldPlus, and Platinum) from our official website x-cart.com. Our resellers and industry partners can still buy the legacy software license for X-Cart GoldPlus or Platinum on demand:
sales@x-cart.com
Again, we are still supporting X-Cart 4 stores and will not discontinue such support until there are live stores on this platform. You will never walk alone, guys.
Moreover, all the customers on Gold edition can upgrade their license to GoldPlus for free – please
contact us
to claim the offer. The upgrade packs for v.4.5 to 4.7 will be available in the File Area section of your HelpDesk account after the license exchange. Our team of experts is ready to take the burden of upgrade procedures off your shoulders. Just contact them and ask for help.
-------------
What's next?
If you are happy with your current store and do not want to change anything, just keep using X-Cart 4. If you need new features, you may want to upgrade to the latest X-Cart 4 version (4.7.10, 4.7.11) and/or X-Cart GoldPlus (if you are on X-Cart Gold).
If you decide to switch from X-Cart Gold or Gold Plus to X-Cart Business and are ready to transfer the site yourself, we have a ready solution – the Data Migration Wizard -
https://market.x-cart.com/addons/migration-wizard.html
. With this migration tool, you can transfer the following data types:
- Configuration settings (company info, general settings, contact us, SEO-friendly URLs)
- Content (static pages, speed bar)
- Products (general info, images, SEO-friendly URLs, bestsellers, market price, product options and variants, wholesale prices, etc.)
- Categories (general info, images, SEO-friendly URLs)
- Users (as is)
- Memberships (as is)
- Zones (as is)
- Payment settings (for the popular payment methods)
- Shipping settings (user defined and real time)
- Orders (as is)
The migration process is described in detail with tips and step by step instructions in the
knowledge base
. All you need is to upgrade your v4 license to the v5 Business package for $49.50 only. You save 90% of the initial cost of the license.
If you'd rather we made the transfer, you should opt for the Migration Service pack. Please find more information from this page:
https://www.x-cart.com/x-cart-migration.html
-----
How X-Cart 5 can help you grow your eCommerce business

Launched 5+ years ago, X-Cart 5 has by now developed into a fast, modern, flexible and easy-going eCommerce solution. It helps online business owners improve their positions in the ever-growing eCommerce market and survive the tough competition.
Why people choose X-Cart 5:
-
It's fully-functional
. 99,99% of the built-in features match those of X-Cart 4. Plus 300% extra features for even better admin and customer experience.
-
It's extendable
. 1000+ ready add-ons and integrations in the built-in App Store – installed with one link, just like adding an app on your smartphone.
-
It's customizable
. You'll have a whole mighty Webmaster mode to tweak any part of your storefront.
-
It's upgradeable
. And the brand new upgrade system runs autonomic upgrades to allow pain-free upgrade process within a few clicks. This is the reason why 65% оf X-Cart 5 users upgrade to the new versions. Just compare with the 4% users of legacy platform upgrades.
-
It's stable
. Yes. It's customizable AND upgradeable AND stable. Unlike all other eCommerce solutions where it's two of the three, X-Cart 5 is a blend.
-
It's secure
. 100% PCI-DSS compliant by default.
-
It's mobile and SEO optimized by default
. No comments here, it's just awesome.
-
It's cost-efficient
. eCommerce software license at a cost of an iPad – that sounds very affordable.
It has better conversion than the v4 branch (based on the statistics of the merchants who migrated from X-Cart 4).
Check the reviews of the merchants who already migrated to v5.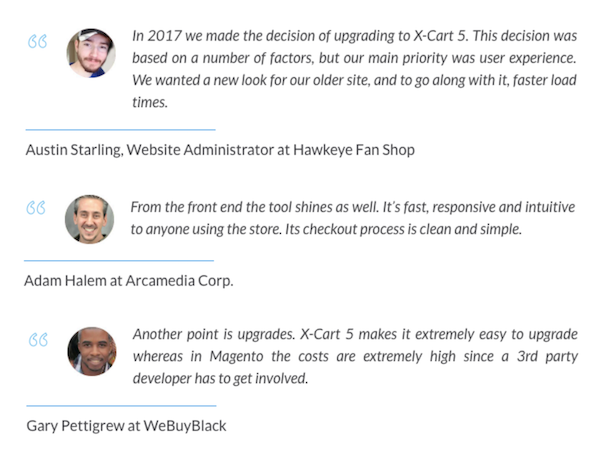 Review the full article about why people chose to switch to X-Cart 5:
https://www.x-cart.com/blog/reviews-about-migration-to-xcart-5.html
However, if you're satisfied with your current X-Cart Classic store, great! Keep developing your business, grow your sales, we'll never abandon you. Our customer care, support and hosting teams along with the developers will work their best to help you grow your business just as they always did. Stay tuned for the release of new X-Cart 4.7.11 this April.
Remember, we always have your back – we consider it our main priority.
--------
Summary

- No sales of new licenses of Gold/GoldPlus/Platinum licenses for new customers. Only for the partners and existing merchants who need to clone the existing stores.
- Continue support v4 branch. The release is scheduled to April 2019
- All Gold licenses could be upgraded to GoldPlus for free. Contact our team to do it.
- You can upgrade your v4 store to the newest 4.7.10 version in the v4 branch or consider upgrading to v5 to increase your conversion and boost your sales.